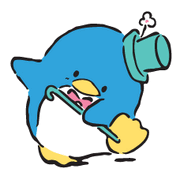 Tuxedo Sam is a cute penguin character from the Sanrio company, one of the "friends" of Hello Kitty. Sam is a plump blue and white penguin who wears a red bow-tie and a round white sailor cap with a red ribbon.
More on Tuxedo Sam
[
]
A clumsy little fellow who loves to eat, Tuxedo Sam has great fashion sense, as he owns a collection of 365 bowties. He's very good at speaking English too. Tuxedo Sam has served in eight navy battles in his career, and was honorably discharged once he reached the rank of captain. He received a bowtie styled medal of honor at the end of his career.
According to The New York Times, this character is "moderately successful" in terms popularity but shows no signs of reaching the global popularity of Hello Kitty. Despite being "moderately successful" he lacks merchandise. He has potential! Just Love him! He is the cutest penguin in the world also he has two brothers named Tam and Pam.
Fun Facts
[
]
Tuxedo Sam's Birthday is on the May 12th 1978. See more Sanrio character birthdays here: Character Birthdays