Mimmy



Full Name

Mimmy White

Birthday

November 1st

Star Sign

Scorpio

Place of Birth

Suburbs of London, England

First Appearance

1974

Voice Actors

Miina Tominaga ; Marcia Regina
Mimmy White is Hello Kitty's twin sister.
She is quiet, shy and very girly. She loves her sister very much and looks just like her, although she wears a yellow ribbon in her right ear.
Her hobbies and interests include sewing and patchwork, and her favourite subject at school is home economics.
She often dreams about being married and becoming a beautiful bride.
Family

[

]
Mimmy has a lot of well known family. These characters are listed below.
Mother - Grandma White
Father - Grandpa White
Sister - Mrs Kitty
Grandmother - Great Grandma White
Grandfather - Great

'Grandpa' White
Appearances

[

]
Games

[

]
Hello Kitty Online (HKO)

[

]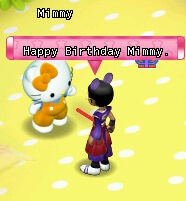 Mimmy can be found in 2 locations in HKO, one being Dream Carnival and the other in London. There are 4 quests involving Mimmy, listed as: 'More Surprises From Anthony', 'You Gotta Jiggle It', 'Dear Daniel to the Rescue' and 'Put the Power Back'.
Quotes:
Dream Carnival - "Oh hi! Welcome to the Dream Carnival! Have fun playing!"
London - "Hello there..."
Filmography/Television
Hello Kitty: Santa's Missing Hat / Growing Up With Hello Kitty /

Daisuke! Hello Kitty

/

Kitty's Paradise

/

Sanrio Anime Sekai Meisaku Gekijou

/

Asobou! Hello Kitty

/

Hello Kitty: Ringo no Mori no Fantasy

/

Hello Kitty no London ni Orita Uchuujin

/

Hello Kitty no Papa Nante Daikirai

/

Hello Kitty no Suteki na Kyoudai

/

Hello Kitty no Yuubinya-san Arigatou

/

Hello Kitty: Mahou no Mori no Ohimesama

/

Hello Kitty no Shiawase no Aoi Hotaru

/

Hello Kitty: Ringo no Mori no Mystery

/

Hello Kitty: Ringo no Mori to Parallel Town

/

Hello Kitty no Yume Dorobou